Jersey is the most southerly island of the British Isles. Located some 100 miles (160km) south of mainland Britain yet only 14 miles from the coast of France, Jersey provides the visitor with a kaleidoscope of sensory stimuli.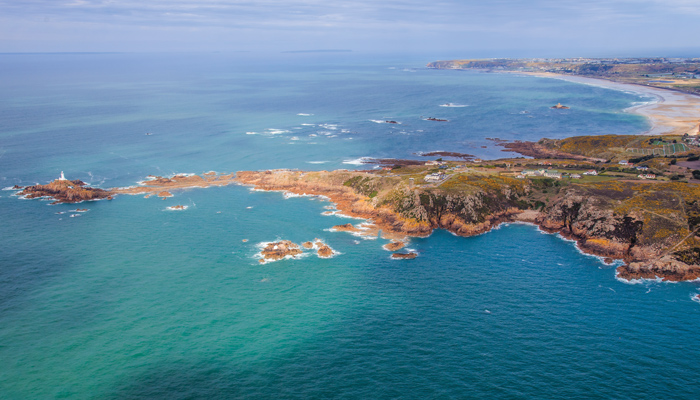 The island of Jersey has so much to offer its visitors. Aside from the excellent flying, we have miles of clean beaches, some of the cleanest waters in Europe and top class golf courses. There are many fine restaurants located all around the island, and VAT free shopping in the capital St Helier is a must.
Jersey Tourism can be contacted on +44 (0)1534 448800 or by visiting www.jersey.com
A hire car is a fantastic way to see the Island. Jersey may only be 45 square miles, but you can soon get lost in the country lanes and picturesque scenery. The aeroclub can arrange a hire car on arrival or you can book one before you leave home.
Evie electric car rental by the hour is available with one car based at the aeroclub.  Evie also have electric bikes around the island for rent.  See https://evieondemand.com for more information and to download the app (required for booking).
Being an Island, Jersey has a significant sailing community and you can charter yachts and boats to sample the magnificent scenery from the water. If you want to have a break from flying for a day or two, why not take a day trip via fast ferry to St Malo – a historic French port only 40 minutes away. However, Dinard airport is only a taxi ride away from St Malo if you prefer to go by air.
The Jersey Air Display is a must for all visting pilots. Taking place annually during September, this is a stunning spectacle in a most memorable setting. See www.jerseyairdisplay.org.uk for more information.
For more information please contact:
Tel: +44 (0)1534 743990 or Email: jersey@flysynergy.com 
Flt Lt Syd Bowsher returns to the Aero Club to give us another talk about some of his more hair-raising experiences from his flying career.
Read More »
The October 2023 Newsletter has now been published and can be accessed from https://www.jerseyaeroclub.com/newsletter/  
Read More »
The September 2023 Newsletter has now been published and can be accessed from https://www.jerseyaeroclub.com/newsletter/  
Read More »